Welcome to Alexander Lys Osteopathy Practice
ABOUT ALEXANDER:
Horton Heath Osteopathy, Eastleigh
I am a fully registered Osteopath and have a practice in Horton Heath, since graduating in June 2002 from the British College of Osteopathic Medicine I have worked in various practices in Hampshire and Dorset. I am a member of the Statutory Register of Osteopaths and The British Osteopathic Association. I am recognised with AXA, PPP, HSA Healthcare.
I treat people of all age groups from newborn and premature babies right through the age spectrum to the elderly. I have a big passion for treating children and babies in particular. I spent two years undertaking a masters in paediatric osteopathy at the Foundation for Paediatric Osteopathy in London, the leading clinic of its kind in the world.
Alexander Lys BSc Hons Ost Med, MSc Paed Ost:
Osteopath, Cranial and Paediatric Osteopath


OSTEOPATHY
When the body is balanced and efficient, just like a well-tuned engine, it will function with the minimum of wear and tear, leaving more energy for living. Osteopathy is a way of diagnosing and treating damaged parts of the body and can help to reduce pain and discomfort in these affected areas. It can be used to treat muscles, ligaments, nerve and joint injuries.
Osteopathy can reduce the symptons of:
- General, Acute & Chronic Backache, Back Pain (Not arising from injury or accidents)
- Knee, Hip and Ankle Pain
- Headache Arising from the Neck (Cervicogenic)
- Migraine Prevention
- Sciatica
- Frozen Shoulder, Shoulder & Elbow Pain, Tennis Elbow Arising from Associated Musculoskeletal Conditions of the Back & Neck, but not isolated occurrences
- Muscle Spasms
- Generalised Aches & Pains
- Sports Injuries
- Arthritic Pain
Regulation of Osteopathy:
All osteopaths in the UK are regulated by the General Osteopathic Council (GOsC). It is against the law for anyone to call themselves an osteopath unless they are registered with the GOsC, which sets and promotes high standards of competency, conduct and safety.
Did you know...
- 49% of the UK's population experience back pain which lasts for over 24 hours at some point in their life.
- Nearly two thirds of adults in the UK have had experience of back pain and 2.5 million people have back pain every day of the year.
- After the common cold, problems caused by the lower back are the most frequent cause of lost work days in adults under the age of 45.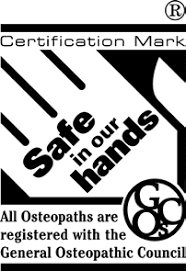 Safe Hands

Cannot recommend enough. Even after just one session, I have started to notice a difference with my little ones neck. Alex is thorough and talks through the exercises you can do yourself at home.

Billie Lewis Monday, December 7, 2020
After several weeks of stress with a very unhappy baby, I decided to take my daughter to see Alex on the recommendation from a friend. And wow! What a good decision that was. During her first appointment, Alex explained everything to me about where there was tightness in her chest & neck. We went into detail all about her delivery and how feeding was going. He worked his magic & after the first session I noticed such a huge difference in my little girl. She was so much happier, feeding so much better and was generally a lot more settled. We had 3 sessions in total & honestly feel like Iíve got a different baby now! Our house is full of happy people because we have a happy & relaxed baby. I would 100% recommend Alex to all my friends with babies! Ive attached a picture of my daughter fast asleep during her last session, you can literally see how relaxed she is

Megan Pointing Friday, November 20, 2020
I have seen Alex myself on two separate occasions. Firstly just after my daughter was born, where he also treat her and secondly four years later for neck, shoulder, hip tension. Every time i have seen Alex I have been made to feel very welcome and the service i received has been outstanding. Alex is incredibly professional and is excellent at explaining things to you. Our baby girl had reflux and Alex helped greatly with that, we felt incredibly comfortable with Alex working his magic on our little girl. More recently Alex welcomed me back with a friendly face to help with neck and shoulder tension I had. He has made a huge difference for me for the better in only a few sessions. I would highly recommend Alex for Osteopathy.

Suzanne Mckay-kennerley Thursday, October 24, 2019
Wow.... we have been struggling for a couple of months with colic and reflux... after the first session with Alex our little boy was sleeping soooo much easier and through the night!!! Would highly recommend

Vicky Phasey Smales Monday, September 21, 2020

Get In Touch!
Address: 12 Angelica Gardens, Horton Heath, Eastleigh, Hampshire, SO507PB
Telephone: 02381786251
Mobile: 07734110706
Email Address: info@alexlysosteopathy.co.uk
How To Find Us